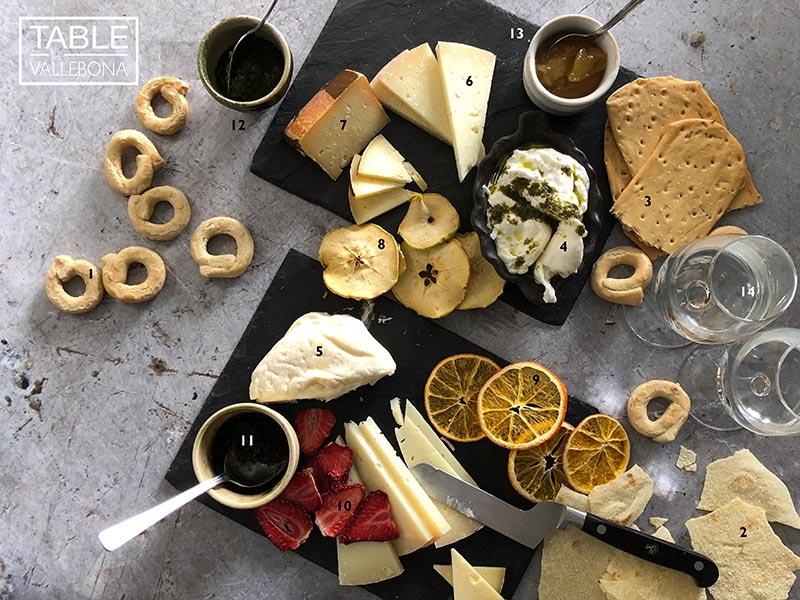 Here at Vallebona we consider ourselves experts at crafting the perfect cheeseboard. Our customers come straight to us too get an insight into how we help Michelin-star restaurants and 5 star hotels build theirs, and to experience the very best products for themselves. We want to make it easy to build a brilliant, exciting cheeseboard in your home to share with family and friends, all with minimum effort on your part.
With that in mind we want to show you how we put together a cheeseboard, and how you can too. The cheeseboard below, we designed especially for Spring, using flavours and tastes that we love and pairing cheese, wine and condiments for the perfect platter for a Spring lunch. We've taken inspiration from our new Japanese condiment range to build this board which we find it provides a real talking point. We hope you and whoever you're sharing it with loves it as much as we do!
The Board
Tarallo (Puglia): These classic Puglian circular breads are traditionally served with cheese or charcuterie
Music paper bread (Sardinia): A Sardinian staple, this wafer thin crispbread is the perfect base for cheese and condiments or canapes
Ligurian bread with rosemary (Liguria): This tongue-shaped bread is made with the highest quality olive oil and rich, fragrant rosemary then topped with coarse salt
Burrata (Puglia): this super creamy variety of Mozzarella is best served the Italian way, warm, in a bowl with a spoon, here we have paired it with our Japanese Shiso Pesto
Robiola 3 latti (Piedmont): a creamy mixed milk cheese with a kick, best paired with our Seaweed chutney
Pecorino Sardo (Sardinia): A creamy, salty Sardinian classic, paired beautifully with our Yuzu Marmalade
Seaweed Toma (Alto Adige): A collaboration between a Japanese chef and an Italian cheesemaker in the Dolomite mountains led to this beautifully eclectic cheese, perfect on our Japanese-inspired board.
Dehydrated Apple (Emilia Romagna): coming soon! 9. Dehydrated Orange (Emilia Romagna) coming soon! 10. Dehydrated Strawberry (Emilia Romagna) coming soon!
Seaweed Chutney (Tokushima Prefecture): Underwater farmers harvest this seaweed by hand on an island South of Kobe, then dry it on beaches and ferment it into this super-tangy onion-like chutney
Shiso Pesto (Gifu Prefecture): Shiso is Japanese basil, it has a sharper taste than European basil and is blended with only garlic and olive oil for a more intense flavour
Yuzu Marmalade (Tokushima Prefecture): Yuzu is a Japanese citrus fruit that tastes like a cross between lemon and mandarin, which means that it has a very delicate flavour, without the harsh acidity of lemon, it is still tart, and pairs beautifully with aged heard cheeses like a Pecorino Sardo
Sake Jyunmai Daiginjyou (Gifu Prefecture): coming soon!
The Cheese
This cheeseboard follows our philosophy which has been the same since we started in 1890, the highest quality ingredients are the tastiest! All of the cheese on this board is sourced from artisan producers who share our values and still use centuries-old methods, rather than caving to mass-production which floods the market with poor-quality produce. This means that all they cut no corners, and don't pump their products full of nasty chemicals. Only the products which we are happy to give to our own family bear the Vallebona name, so you can have confidence sharing them with yours!
The Accompaniments
Our new Japanese range was inspired by our Creative Director Naoko's heritage, and the similarities between Italian and Japanese cuisine. Both are founded on the principle of extremely high quality ingredients, prepared in a simple way that allows them to shine. This is reflected in our Japanese condiment range where the main ingredients of each (Arame Seaweed, Yuzu and Shiso) are allowed to shine, providing a beautiful pairing with our Italian cheeses.
Drink Pairings
Here, we have paired our board with Sake, we find that when it is chilled it can be a very light refreshing companion to the cheese which allows it to shine. However, if wine is more your thing we would recommend a nice Marmora Vermentino di Sardegna, this wine is grown on craggy Sardinian hillsides facing the sea so that the grapes benefit from double the light, from both the sun and the reflection on the water. The cool sea breezes that blow up these valleys keep the grapes cool, giving them a lovely dry acidity which complements the mineral flavours from the rocky soil.
The Presentation
When presenting the cheeseboard make sure to prepare the board in advance, so that the cheese can come up to room temperature, this should be done at least an hour before serving (we recommend preparing your board before sitting down to dinner, then leaving it on the side in the kitchen until you're ready to serve it). Try to spread your cheeses and condiments out as much as possible, this looks really pretty because you get a lot of colour and variety on the plate, but also so each cheese and accompaniment is in reach for everyone around the table and more passing equals more chance of dropping!
The age old question of cheese before or after dessert still persists. We ALWAYS serve the cheeseboard before dessert, afterwards you will be too full to properly enjoy it, and Italians always like to end a meal on a sweet note. However,(a small blasphemous note in favour of the British post-dessert cheese) if your cheese board is intended to be less a part of the meal and more of something to pick at through the rest of the day after a long lunch, then post-dessert can sometimes be acceptable.
The most important thing, above all, is to enjoy your cheese! However you choose to serve it!
Shop the Ingredients