THE BRIEF
Our client, a prominent Chelsea Harbour based designer, asked us to produce an informal spread for their team and clients to enjoy after work. Drop off was requested for the showroom at 5:30, right after they closed for the day. The showroom had limited catering supplies, so cutlery and plates were requested.
THE DELIVERY
We worked alongside the client to ensure that our menu was suitable to be served in a showroom environment. The resulting menu was charcuterie with speciality antipasti, frittata, a salad of green beans and miso and a tomato burrata salad, a lavish board of three cheeses, finished with mini Sicilian cannoli. We displayed their selection on our collection of vintage trays and platters and provided them with eco-friendly cutlery and plates, to ensure minimal hassle on their part. The following day, we arranged for a courier to come and collect our materials at a time that best suited them.
---
GRAZING
Wild Olives
Artickokes from Sardinia
Prosciutto Toscano
Salame Finocchiona
SALADS & MAINS
Cherry tomato with burrata, cold pressed-single estate olive oil from Alghero
French beans with miso, tahini, sesame seeds
Onion frittata
Zucchini frittata
CHEESE
Robiola Tre Latti
Gorgonzola Dolce
Pecorino Sardo
Fig Marmalade
Music paper bread, taralli
DESSERT
Lemon Sicilian cannoli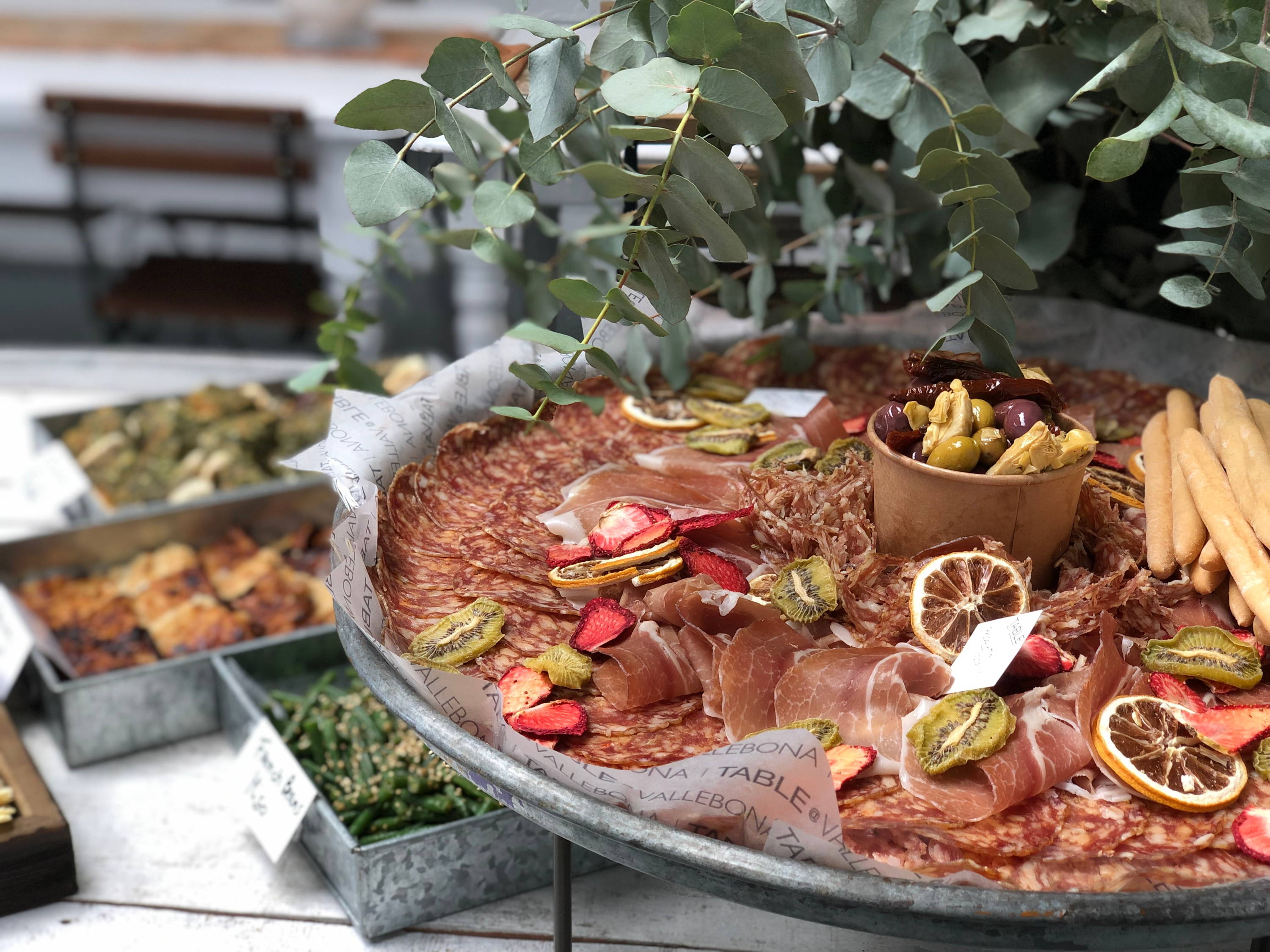 THE RESULT
The party were thrilled from the moment we walked in the door. The Vallebona team spent about 5 minutes setting up the serving area and by-standers were thrilled and notably excited by the look of the set-up. Next day collection was organised easily, with the team even saying that they had left-overs to enjoy for lunch!
'Vallebona provided a wonderful array of beautiful dishes for us to enjoy at a celebration in-house evening. Stefano gave us a full and inspiring explanation of everything which only added to the excitement and anticipation – everything was so fresh, enticing and completely delicious. We can't wait until the next event!'