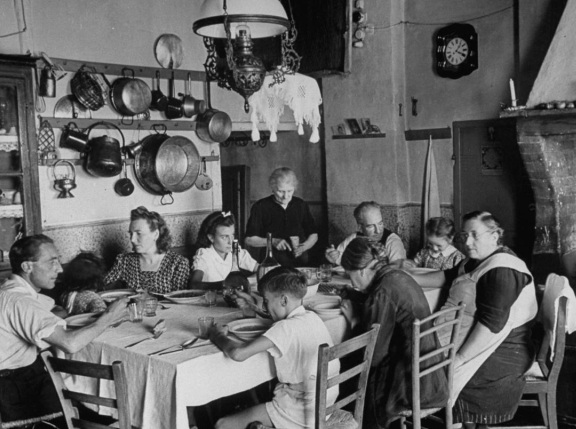 Sunday in Italy is a time for friends and family to, as the Italians always do, eat well.
Get round the table this Sunday with our specially selected, beautiful Florentine Style Beef Joint, which only needs about 10 minutes cooking time! They are hand cut in Tuscany by a butcher who uses only the finest quality, leanest beef, no preparation required!
Enjoy complete family satisfaction without the stress and hassle of cooking.
Our Italian Sunday Lunch (serves 4-6)
Starter: Antipasto- 100g Prosciutto Toscano, 100g Coppa, 100g Finocchiona, 100g Porchetta, 1 jar Sundried Tomatoes, 1 jar Artichoke Hearts
Main: Florentine Steak Tagliata with Tomato, Pancetta and Basil Lentils and Rocket
1. Soak lentils then boil in salted water, drain
2. In the same large saucepan fry pancetta with oil and garlic then add 2 tins of passata, reduce by half and season to taste, remove from heat
3. Pour over lentils and stir then insert a whole bunch of basil, leaves facing down, and bury them in the lentil mix, cover and leave to infuse for a few hours
4. In the morning on the day take the steak out of the freezer and leave out to defrost. 20 minutes before you are ready to eat put a frying pan on a high heat, add a generous amount of oil or butter then fry the steak without moving it around in the pan for 5-10 minutes each side (depending on your cooking preference)
4. Remove the steak from the pan, leave to rest for 5 minutes. Remove the basil from the lentils, reheat and plate some of the lentils on one side of the dish with some fresh rocket on the other. Thinly slice the steak and arrange over the rocket, season with coarse unground truffle salt and enjoy!
Dessert: Almond Cantucci dipped in Vin Santo Dessert Wine and Easter Eggs
Wine suggestion: Chianti Rufina Selvapiana, a light red from Tuscany with perfumes of ripe blackberry fruit, red cherry and touch of spice
Florentine Steak is available from our Wimbledon shop only. Many other ingredients can be purchased online.