£75 per guest
A all inclusive menu which displays our most popular selection of food and wine.
---
DRINKS
Per Adult guest: £35
1 bottled Italian craft lager
2 glasses of Prosecco Vaporetto
*A Prosecco that is light, delicate wine with aromas of honeysuckle pears and apples.
2 glasses of Pecorino (White)
*A dry white wine with a rich bouquet, citrus and stone fruit notes and a long refreshing finish.
2 glasses of Montepluciano D'Abruzzo (Red)
*A medium bodied red wine with ripe red and dark fruits, a well balanced palate with subtle tannins.
*Price based on party of 35 guests
GRAZING TABLE
From £35 per guest
Frittata di Piselli Basilico - Garden peas Frittata
Cheese & Charcuterie Sharing Board served with Truffle Honey and organic Marmalades
Fresh fruits and Vegetables Crudite
Artisan Bread Selection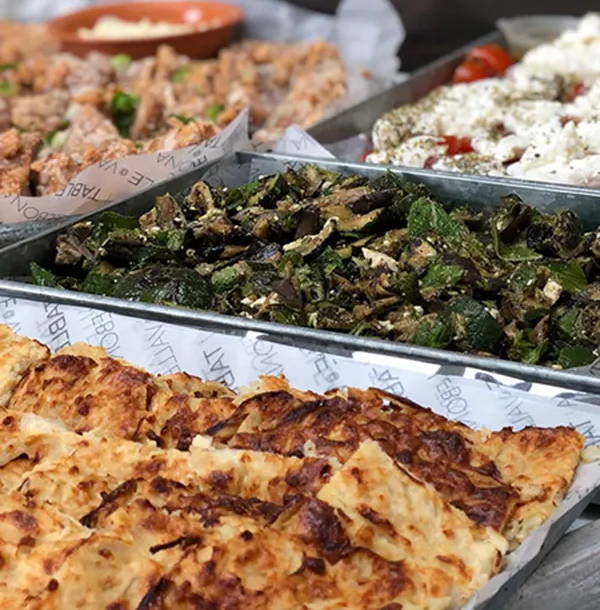 ADD TO YOUR MENU
SALADS From £6/guest
Sicilian Pachino Tomatoes and Burrata Salad
Broad beans, peas Pesto
Roast Zucchini, Aubergine & Peppers, smoked Ricotta & Pesto
PASTA & SUSHI From £8/guest
Trofie pasta with French beans and pesto Genovese
Fregola sarda with Tuscan sausage
Chirashi Sushi - Sushi Salad
Orecchiette with Broccoli & Pecorino
Capunti con truffle & funghi
MAINS From £12/guest
Karaage Japanese Fried chicken with truffle ketchup extra
Roasted porchetta rolled with fennel seed and herbs, with crispy crackling
---
EVENT INFORMATION
Drinks & Grazing Table from £70 per guest (based on 35 guests)
EVENT STYLE
Traditional Milanese style event with beautiful grazing stations & Italian wines
MAXIMUM NUMBERS
Standing guests : 40
TIMINGS
Tuesday -Thursday from 18:30 to 21.30
Friday and Saturday 18:30 to 22:00
MINIMUM SPEND
Week days: £2500
Friday/Saturday: £3000
This does not include venue hire fee ( £300 Tue-Thur, £400 Fri-Sat) or service charge 12.5%